News
World Vision, One of the Largest Evangelical Charities, to Hire Married Gays
World Vision ads are ubiquitous—tugging at the heart-strings by showing starving children in Africa, Syria and other famine stricken-zones whose plight can be alleviated with clean water, pro...
March 25, 2014 - by Karen Ocamb

World Vision ads are ubiquitous—tugging at the heart-strings by showing starving children in Africa, Syria and other famine stricken-zones whose plight can be alleviated with clean water, proper nourishment and a little Christian love.
The ads are hard to watch for empathetic gays—especially LGBT Christians who would like to help but don't want to contribute to an organization perceived to be part of the hateful anti-LGBT religious right. And World Vision is a major player on the evangelical stage, with over a billion dollars in revenue last year—according to Christianity Today—serving roughly 100 million people in 100 countries and ranked by Forbes as 10th among America's largest 50 charities. World Vision also won a Supreme Court ruling giving Christian organizations the right to hire and fire employees based on statements of faith. And in 2012, the organization opposed a USAID attempt to "strongly encourage" federal contractors to develop anti-discrimination policies that include sexual orientation in order to receive federal funds. World Vision also filed a friend of the court brief in the Hobby Lobby casebeing heard today before the Supreme Court.
But wait, World Vision isn't just knee-jerk anti-gay. Two weeks ago, without much fanfare, World Vision announced that it would not discriminate against gays in Uganda, despite the recently signed anti-homosexuality law signed by President Museveni. "Sexual orientation of those we serve or those with whom we collaborate with will not be a consideration during our work. The issue of same-sex relationships will neither prevent us from serving children, families and communities around the world, nor obstruct our collaboration with one another and with our partner organisations," said the statement signed by Mr. Gilbert Kamanga, the national director of World Vision Uganda.
And yesterday World Vision U.S. president Richard Stearns announced that the organization would no longer discriminate in hiring or employment of gays and lesbians who are legally married. The "condition of employment" still requires abstinence outside of marriage and a declared belief in Christian principles. But Stearns told Christianity Today henceforth the charity will stay out of such controversial issues, leaving it up to their coalition of local churches to uphold their own theological doctrines.
"Changing the employee conduct policy to allow someone in a same-sex marriage who is a professed believer in Jesus Christ to work for us makes our policy more consistent with our practice on other divisive issues," Stearns said. "It also allows us to treat all of our employees the same way: abstinence outside of marriage, and fidelity within marriage."
Stearns seems to have found a common sense compromise that allows World Vision to employ staff from more than 50 denominations that believe in the freedom to marry for same-sex couples—including the United Church of Christ, The Episcopal Church, the Evangelical Lutheran Church in America, and the Presbyterian Church (USA), CT reports.
Additionally, Washington state, where World Vision is headquartered, permits legal marriages for same-sex couples, as do 16 other states and the District of Columbia.
"We're not caving to some kind of pressure. We're not on some slippery slope. There is no lawsuit threatening us. There is no employee group lobbying us," said Stearns. "This is not us compromising. It is us deferring to the authority of churches and denominations on theological issues. We're an operational arm of the global church, we're not a theological arm of the church. This is simply a decision about whether or not you are eligible for employment at World Vision U.S. based on this single issue, and nothing more."
"This is also not about compromising the authority of Scripture," said Stearns. "People can say, 'Scripture is very clear on this issue,' and my answer is, 'Well ask all the theologians and denominations that disagree with that statement.' The church is divided on this issue. And we are not the local church. We are an operational organization uniting Christians around a common mission to serve the poor in the name of Christ."
Not surprisingly, that's not how Peter LaBarbera of Americans for Truth About Homosexuality sees it. In a press release posted on his website, LaBarbera condemns World Vision for their "stunning capitulation to a powerful Sin Movement."
Calling the move a "cultural cave-in" and a "sellout," LaBarbera writes:
Stearns' rationale for the policy change is stunningly dishonest and illogical in its double-speak. Stearns would be more forthright in declaring that World Vision has abandoned the Bible as authoritative and is denying "Jesus as Lord." The same principle applies to individuals and organizations: one cannot embrace and sanctify sin while professing to honor Jesus Christ, who died and rose again so that believers might have victory OVER sin.

By recognizing homosexual "marriages" in its hiring practices and treating them like actual marriages, World Vision has not only entered the debate over this issue but greatly advanced the LGBT agenda by lending "Christian" credibility to "gay" activists' misleading "marriage equality" propaganda. WV also undermines religious liberty by signaling that immoral laws that defy God's law are more binding than Scripture—unilaterally throwing up the white flag of surrender on freedom of conscience.
LaBarbera then posits the exact opposite dilemma faced by potential LGBT donors—only instead of debating whether to contribute to a religious hate group in the first place, he suggests good Christians stop contributing to the organization devoted to ending poverty, especially among children:
World Vision now puts hundreds of thousands of biblically faithful and compassionate Christians in a bind: they want to keep supporting poor children through WV sponsorships, but they do not want to give their money to a charity that actively undermines God's Word through its policies. Many Christians will abandon World Vision and children will suffer.
So much for Jesus' admonitionto "suffer little children to come unto me." Does LaBarbera think Jesus would leave out the LGBT kids?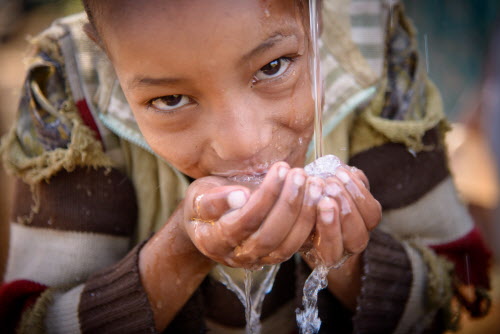 Comments